Eastern Sierra Scenic Byway
>> DOWNLOAD PDF OF INTERPRETIVE DISPLAYS
Geology, Fire and Wildlife
Walker River; Lahontan Cutthroat Trout
Bridgeport and Historic Walking Tour
Dogtown: Mining History
Wilderness and Aspens
Mono Lake, Birds and Great Basin
Glaciers and Volcanoes
Scenic June Lake Loop
High-elevation Recreation
Year-round Recreation
Caldera and Fishing
Glaciers and Wilderness
The Big Mammals
Recreation Opportunities
Bristlecone Pine and Death Valley
Water and Valley Wildlife
Winnedumah and Panoramas
Independence: Historic Walking Tour
World War II Internment Center
Highest and Lowest Points, Deserts
Diaz Lake
Native Americans and Cultures Clash
Geology and Native-American Site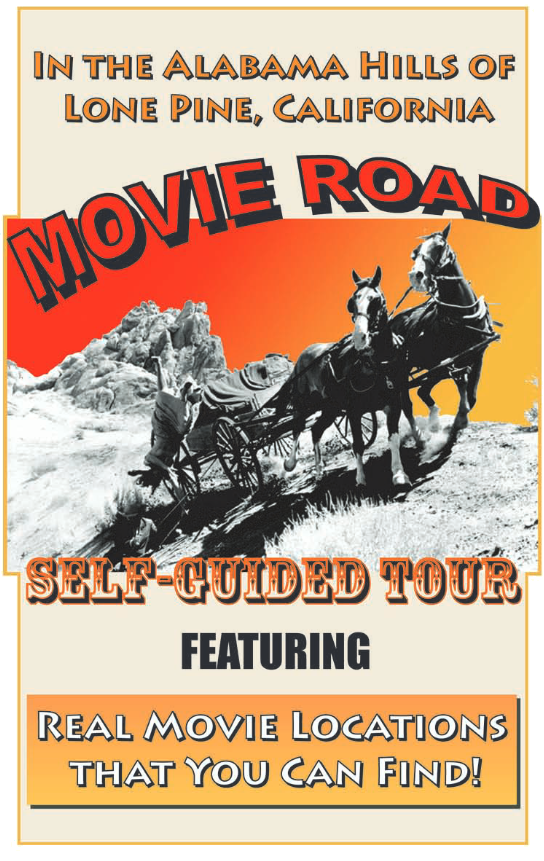 Movie Road Self Guided Tour (PDF)
(10 motion picture-themed driving tours)
Gunga Din Tent City
Showdown
Rawhide Grave Site
Gunga Din – Tantrapur
The Gay Caballero
The Tall T
Gunga Din – Bridge
How the West Was Won
Hell Bent for Leather
Rawhide Stage Station
Inyo Backroads Tours (PDF)
~ including Death Valley
Cerro Gordo
Alabama Hills – Movie Flat
Whitney Portal
Horseshoe Meadows
Owenyo – Manzanar
Onion Valley
Oak Creek/Mt. Whitney Hatchery
Mazourka Canyon
Old 395/Aberdeen/Fish Springs
Big Pine Canyon
Ancient Bristlecone Byway
Buttermilk Country
Fish Slough/Red Rock Canyon/Casa Diablo
Fish Slough/Benton Hot Springs/Casa Diablo
Casa Diablo to Rock Creek
Shoshone, Tecopa and the Old Spanish Trail
Furnace Creek, Greenwater Valley & West Side Road
Big Pine to Furnace Creek
California Road Trips – Highway 395
Hop in your car and go for a drive!  Bishop is only a few hours north of Ridgecrest or Tehachapi, but you'll feel like you are worlds away.  The drive north on Highway 395 is incredibly scenic.  The highway runs up the middle of the beautiful Owens Valley with stunning views of the majestic Sierra Nevada Mountains on the west and equally impressive Inyo and White Mountains to the east.  You'll likely stop many times to take photos; that's okay, there's no need to hurry.
The Owens Valley has several quaint towns – each has something special to offer.  The Eastern Sierra Visitor Center is a must stop.  Located two miles north of Lone Pine, it offers an awe-inspiring view of Mount Whitney (highest peak in the continental US).  Lone Pine's Museum of Western Film History has an extensive collection of real costumes, cars, props and memorabilia from movies made in the area ranging from early westerns to modern blockbusters.  Take a short drive up Whitney Portal Road and enjoy the self-guided tour of Movie Road.  You'll get a first-hand look at filming locations in the amazing Alabama Hills.
Tip:  take the easy Arch Hiking Loop Hiking Trail – a ten minute walk from the parking area will reward you with a view of Mount Whitney through the famed Mobius Arch.
About 9 miles north of Lone Pine, you'll reach Manzanar National Historic Site.  Here you'll learn about Japanese American citizens detained in military style camps during World War II.  Exhibits include a scale model of Manzanar War Relocation Center crafted by former internees, restored barracks and dining hall, historic photographs, audiovisual programs and artifacts.
Tip:  the award winning 22-minute film Remembering Manzanar plays every half hour in the visitor center theater. Don't skip this!
The next town you'll come to is Independence.  The Eastern California Museum houses much of the region's history. See historic photographs and artifacts, quality Native American basketry and a grand collection of mining and farming equipment.  Tip:  be sure to explore the Mary DeDecker native plant garden and ask to see the dentures made from coyote teeth.  Just north of Independence is the historic Mount Whitney Fish Hatchery.  The architecture and surroundings are breathtakingly beautiful; the wildlife exhibits are interactive and fun.
About 30 miles north of Independence, you'll reach Big Pine.  To the east, you'll find the Ancient Bristlecone Pine Forest (world's oldest living trees) and to the west, you can see Palisade Glacier (southernmost glacier in this hemisphere). Half-way between Big Pine and Bishop, stop for a relaxing dip at Keough's Hot Springs Resort.  The historic pools were built in 1919 and the water contains 27 different minerals.  The large pool is 86-89 degrees and the smaller soaking tub is kept at 104 degrees year-round.  The resort offers camping, showers and a snack bar with yummy sandwiches and ice cream.
The northernmost town in Inyo County is Bishop.   With the slogan "Small Town with a Big Backyard," it makes the perfect year-round home base for exploring the Eastern Sierra.  Bishop has 21 lodging options ranging from quite luxurious to quaint & budget friendly.  Dine around the world in Bishop – restaurants feature American, Japanese, Chinese, Mexican and Thai cuisine.  If shopping is your thing, you'll love the dozens of unique galleries, antique stores, shops & boutiques.
Laws Railroad Museum & Historic Village is a must stop!  There you'll find 11 acres of indoor and outdoor exhibits that transport you back in time to the pioneer days.  Tour the original 1883 Train Depot and Agent's House, see mining & agriculture exhibits, visit a turn of the century school house, church, medical office, post office and much more!  On certain weekends, you may catch a ride on the restored Death Valley Brill Car.
Tip:  bring a picnic to enjoy under a shade tree or in the gazebo.
The Owens Valley Paiute-Shoshone Cultural center offers a unique look at authentic Native American artifacts and traditions.  Visit the museum, Native Veterans Memorial and native plants trail. Tip:  be sure to check out the gift shop for beautiful handmade items made by local artisans.