Filming in Inyo County
Over 400 Hollywood films were made near Lone Pine in the dramatic Alabama Hills.
Pictures of our Hollywood backyard locations
Easy permits
A directory of services
Information on our competitive incentives
Contact info to reach us directly
And much more!
Chris Langley, Inyo County Film Commissioner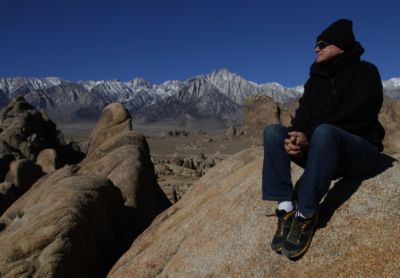 Filming Locations
Owens Valley & The Alabama Hills
Hollywood's "Western backlot", located just west of Lone Pine, CA has been home to Classics such as Gunga Din, Yellow Sky, The Violent Men, have been filmed here. Owens Valley is located along Highway 395 and is surrounded by Inyo National Forest – the White Mountains to the east, and Sierra Nevada to the west. This is the home of John Wayne classics such as 3 Godfathers, The Oregon Trail to Will Roger's Water, Water Everywhere, to today's pop culture favorites like Gladiator, Star Trek V,  Kalifornia and Iron Man have all been filmed here.
THE LARGEST WESTERN BACK LOT LOCATED IN LONE PINE, CA