Film Permits by Land Owner
The permitting process and items needed vary depending on the proposed location and type of filming. Please fill out our online film permit – which covers all agencies, or  contact the appropriate land management agency, county/local film commission office, or private landowner for questions regarding filming on lands within Inyo County.
Inyo County
Film Permits on County Land (parks, roads, buildings)
BLM
Bureau of Land Management
Forest Service
Inyo National Forest Service
LADWP
Los Angeles Department of Water and Power
Inyo County Map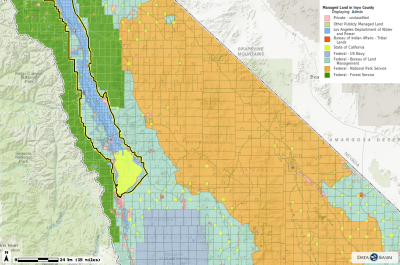 Filming in Inyo County
The Inyo County Film Commissioner promotes the high desert of the Owens Valley, Death Valley and High Sierra regions to the film industry as an accessible site for on-location filming for commercials, feature films, television shows, and still photography, and assists production companies with all their needs when they choose to film in Inyo County.
Over 400 Hollywood films were made near Lone Pine in the dramatic Alabama Hills.
Pictures of our Hollywood backyard locations
Easy permits
A directory of services
Information on our competitive incentives
Contact info to reach us directly
And much more!
If you're interested in bringing your production to Inyo County, please contact:
Jesse Steele, Inyo County Film Commissioner
760-938-0144
film@inyocounty.com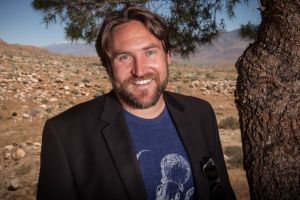 When do I need a film permit?
Filming:  Filming activities that may require a permit include the use of motion picture, videotaping, sound recording, or other moving image or audio recording equipment on public lands that involve the use of actors, models, sets, and/or props.
Public land users do not require a permit for short term filming activities unless the activity would:
cause appreciable damage or disturbance to the public lands, their resources, or improvements, or
is prohibited by closure of the lands to such activities.
Still Photography:  Still photography activities that require a permit are those that:
use models, sets, or props that are not part of the site's natural or cultural resources or administrative facilities (portrait subjects such as wedding parties or high school graduates are not considered models), or would:
take place where members of the public are generally not allowed, or
would require onsite management and oversight for resource protection or to minimize visitor conflict.
Filming or still photography will NOT be permitted if it is determined that:
There is likelihood of resource damage or public health and safety risks that cannot be mitigated, or
There would be an unreasonable disruption of the public's use and enjoyment of the site (beyond short-term interruption).
Each office authorizes filming on public lands within its jurisdiction, and each location is unique and subject to different conditions.  Please fill out our online film permit – which covers all agencies, or  contact the appropriate land management agency, county/local film commission office, or private landowner for questions regarding filming on lands within Inyo County.
Located within 3 hours from Hollywood
Encompassing more than 10,000 square miles, Inyo County features an epic landscape of unparalleled variety, natural wonders and stunning vistas, recreational opportunities, cultural amenities, and rich indigenous, pioneer, mining, water, and movie-making histories.
 Located fewer than three hours from Los Angeles, the epicenter of the entertainment universe, Inyo County has for decades provided the ideal locations for hundreds of motion pictures, television shows, commercials, music videos, and print advertisements, as well as countless amateur endeavors similar in nature. The County's film-friendly legacy – dating back to the 1920s – and popularity with the film industry long ago earned it the nickname "Hollywood's backlot."  Often synonymous with Westerns, Inyo County has been the home away from home for some of the genre's biggest names, including Gene Autry, Hopalong Cassidy, John Ford, Clint Eastwood, Jack Palance, Randolph Scott, Sam Peckinpah, and John Wayne. Gregory Peck, Cary Grant, Spencer Tracy, Ida Lupino, Alan Ladd, Tony Curtis, Jack Lemon, and Natalie Wood have also graced the camera-ready landscape of Inyo County, including the Alabama Hills, Owens Valley, the Sierra Nevada, and Death Valley. 
The county has also served as the setting for non­Western blockbusters including Gunga Din, High Sierra, Tremors, Star Trek V and Star Trek Generations, Gladiator, Iron Man, and Django Unchained, and welcomed such stars as Brad Pitt, Kevin Bacon, Robert Downey Jr., Russell Crowe, and Jamie Foxx … to name a few. 
Jesse Steele is your "one-stop shop" for production companies' needs.
Filming Locations
Owens Valley & The Alabama Hills
Hollywood's "Western backlot", located just west of Lone Pine, CA has been home to Classics such as Gunga Din, Yellow Sky, The Violent Men, have been filmed here. Owens Valley is located along Highway 395 and is surrounded by Inyo National Forest – the White Mountains to the east, and Sierra Nevada to the west. This is the home of John Wayne classics such as 3 Godfathers, The Oregon Trail to Will Roger's Water, Water Everywhere, to today's pop culture favorites like Gladiator, Star Trek V,  Kalifornia and Iron Man have all been filmed here.
FILM LOCATION INSPIRATION – OWENS VALLEY & DEATH VALLEY